Cheesy Pesto Garlic Monkey Bread Rolls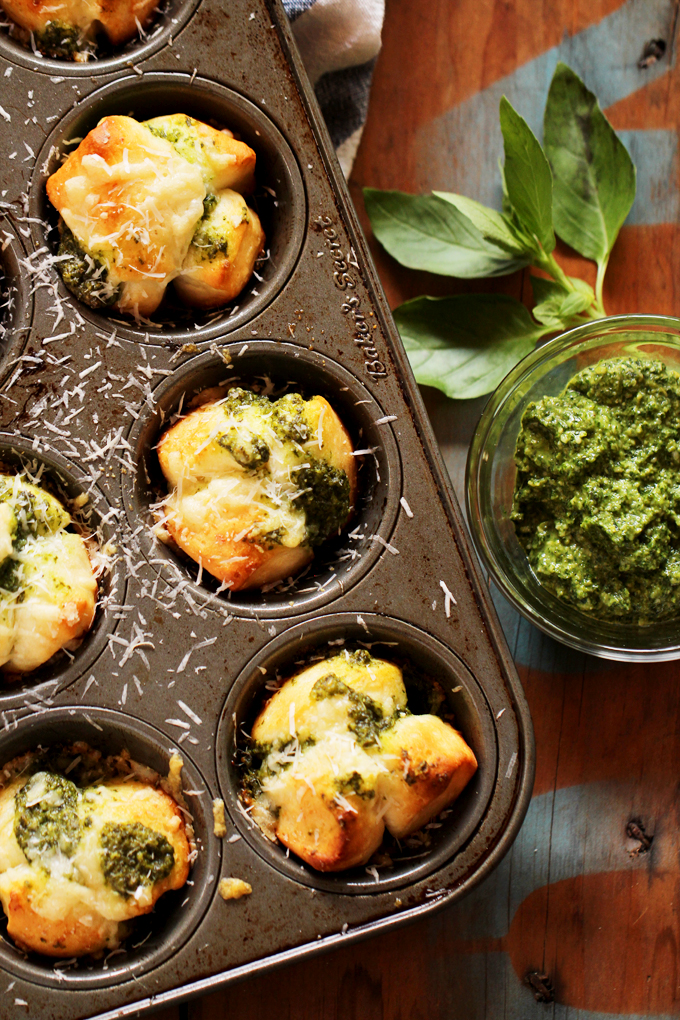 Pesto:
¼ cup pine nuts
3 cups loosely packed fresh basil leaves
1 to 2 garlic cloves
½ cup shredded Parmesan
1 Tbsp lemon juice
¼ tsp salt
¼ tsp pepper
2-4 Tbsp olive oil
.
1 (16-ounce) tube refrigerated buttermilk biscuits
¼ cup freshly grated Parmesan cheese
Pesto* (recipe above)
To make the pesto: In a food processor, blend pine nuts, basil, garlic, Parmesan, lemon juice, salt, and pepper, scraping down the sides as needed. Once everything is all good and chopped, add the oil, a bit at a time, until desired consistency is reached. Taste test and adjust accordingly.
Preheat oven to 400°F. Lightly oil a 12-cup muffin tin; set aside.
Cut each of the biscuits into fourths, making a total of about 40 pieces.
Dip each piece of the biscuits into the pesto, then place in the muffin cups. Each muffin cup should hold about 3-4 pieces. Top with a bit more pesto and a generous sprinkle of Parmesan.
Bake until golden brown, about 8-10 minutes.
*Feel free to use store-bought pesto! I like making my own, though, so I can control the level of garlic (I like looooots of garlic). The recipe included will yield more than you need for the rolls. Yay, leftover!
Recipe by
Port and Fin
at http://portandfin.com/cheesy-pesto-monkey-bread-rolls/