Honey Ginger Chicken Stir Fry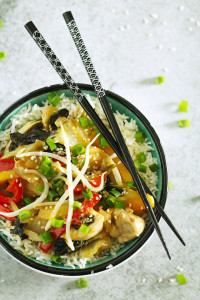 2 tsp cornflour
¼ cup chicken stock
1 Tbsp sesame oil
½ cup honey
1 Tbsp soy sauce
1-2 tsp rice wine vinegar
1 Tbsp vegetable oil
4 large chicken breasts, chopped into 1-inch pieces
1 onion, diced
1 Tbsp freshly grated ginger
1 red pepper, sliced
500g baby bok choy
½ cup sliced water chesnuts
1 cup bean sprouts
Sesame seeds, to serve
2 green onions, thinly sliced, to serve
Basamati rice, to serve
Place cornflour in a large bowl. Gradually whisk in the stock until smooth. Add sesame oil, honey, soy sauce, and rice wine vinegar; set aside.
Heat half the vegetable oil in a large, heavy bottomed skillet (or wok) over high heat. Stir-fry chicken, in batches, until just cooked. Transfer to a bowl.
Heat remaining oil in skillet. Saute onion for about 5 minutes until softened. Add ginger and pepper, cooking for 1 minute or until fragrant. Add bok choy, honey mixture and ½ cup water. Stir well, cover and steam for about 10 minutes until wilted.
Return chicken to skillet and cook for another 2 minutes until sauce has thickened. Serve on top of rice and sprinkle with sesame seeds and green onions.
Recipe by
Port and Fin
at http://portandfin.com/honey-ginger-chicken-stir-fry/